Edvisor Recruit allows full flexibility on how you work with sales pipelines. Here you have more information how to customize, create, edit and delete sales pipelines.
A sales pipeline is a visual representation of the sales process and where your leads and students are in the purchasing process. Pipelines also provide an overview of a sales rep's lead forecast and how close he is to achieving their goal, as well as how close a sales team as a whole is to reach goals. This enables sales reps and sales managers to forecast the number and dollar amounts of deals that will close in a given period. For more information about sales, pipelines check our article What is the sales pipeline? Everything about sales pipelines on Edvisor Recruit.
Edvisor Recruit allows you to customize the whole sales pipeline. You can create multiple and edit the default one that comes with the platform.
How to customize the sales pipeline?
To change, add or remove a sales pipeline is very easy. You have to head to "Company Settings" and click on the tab "Sales pipelines". In this section, you will have all the options and tools to manage your sales pipelines. You can change it at any time.
What are the "Main steps"?
Think of the main steps as the stages/steps your lead/student has to go through for them to buy their course or another service (for example migration services) with you. In the "Main steps" you put all the main steps only, don't put the stages/steps if something goes wrong, such as visa rejections.
What are the "Exception steps"?
In this section, you can put everything that may go wrong with the buying process. For example, visa rejections, Covid, or anything else you see fit. Whenever you update the student status to an exception step, Edvisor Recruit will ask you to provide a reason, so later you can generate reports on why you're not closing more deals.
How to delete a Pipeline?
To delete an unwanted pipeline you only have to access the Sales Pipeline list and click on the red Delete button.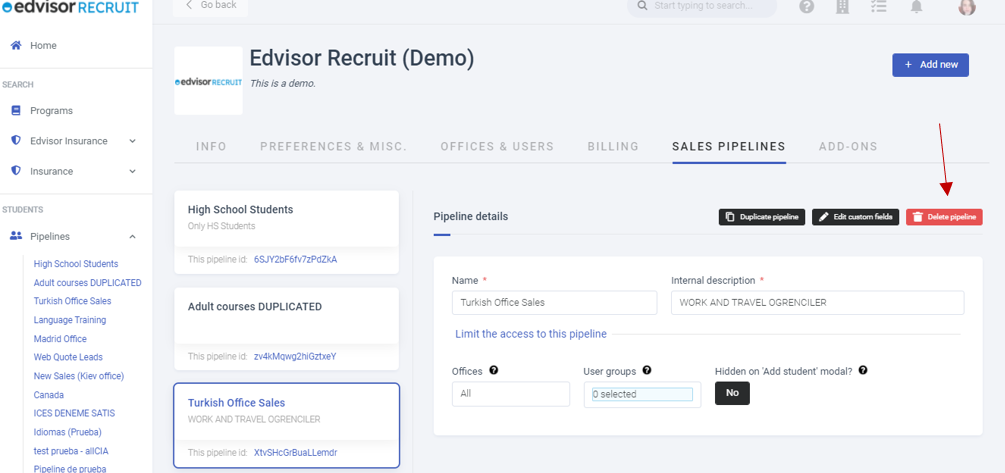 How to duplicate a Pipeline?
If you don't want to create a new pipeline every time, you can duplicate any of them with the "Duplicate" button. To do this follow these simple steps:
Click on Company Settings (on your profile picture on the top-right side)
From the pipeline list, select the one you want to duplicate, then click on the Duplicate button.

After duplicating the pipeline, you will be able to change the name and edit any information you need.

Once you finish editing your duplicated pipeline this will appear on the list (on the left side).