Learn how to create a custom course on Edvisor and how to incorporate it as an option in your quotes.
1. Navigate to the quotes section
Go to Edvisor > Quotes > New Quote > From Custom Course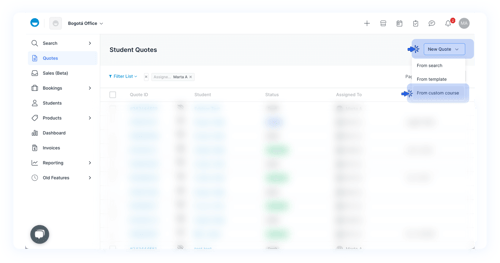 This will allow you to generate a new quote by creating a personalized course.
2. Choose an education provider
Select one of the available education providers from the drop down list and the specific campus for this custom course.
This section allows you to create custom courses for existing providers. If you wish to create a custom provider, please reach out to your account manager.

2. Enter Course Details
Fill in the specifics of your custom course, such as its name, type, description, start date, duration, price and currency.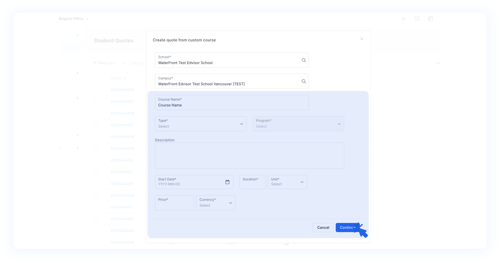 Make sure you fill out all the fields correctly since this will show up in your final quote.
3. Finish creating your quote

And you're done! Pretty straightforward, right? Once you click "Confirm" to save your custom course, it will get added to your quote.

Before sharing it, make sure to add other course options, insurance, or add-ons to provide your students with a complete proposal for their trip.
*If you want to edit your custom course, you can do it anytime by clicking on the pencil icon right next to the course name.
**Your custom courses have the tag "custom" so you can easily identify them.