Here are some quick tips, to set yourself and your Agencies up for success.
We recommend updating your pictures and videos/media as often as you can. Often times, your School and Campuses may be quoted several times for the same student. Keeping your highlights, descriptions, and media as current as possible can give you that edge.
Read more about adding to your Campus Essentials.
Look through the Agent Discovery Tool. Diversify not only the countries you are looking to connect with, but the different selling verticals.
When viewing the search results, look for a 'More Info' link to view further details. Agencies will submit their contact information, including the different programs types they sell.
The key point here is, Edvisor Agencies are now able to sell different program types than was traditionally accessible to them - many look to Edvisor to help diversify their offerings to meet the changing demands of their students.
3. Keep your Translations up to date!
Ok, so this is listed as #3, but it is in this author's humble opinion, this is possibly the most effective way to keep your Agencies engaged and coming back to offer your programs. Profile, course, and promotion descriptions are used in Agencies' quotations to students.
Spending time to include the right translations will make a "yhuuge" difference for you partners!
4. Use the Promotions Manager to offer new partner deals
If you so choose, Edvisor's 'Promotion Manager' allows you to create several types of offers, with very specific targeting with ease.
Simply creating some limited offers for new partners (immediately allowing them to include on student proposals) can go a long way, without having to spend a ton of time having to build large market campaigns.
Included with your Edvisor for Schools account, is the WebQuotes Engine. As a quick self-quoting widget, your website visitors are captured as leads in the 'Quotes' section of your School account. Curious Agents are sure to visit your website. This allows you to capture their visit, and follow up.
You can install it yourself anywhere on your website, by generating code snippets and pasting them on your website.
Find the 'WebQuotes Configurator Tool' by going to 'Settings' > 'School', scroll down and click the button 'Open Configurator'. Complete the form, and download the installation instructions.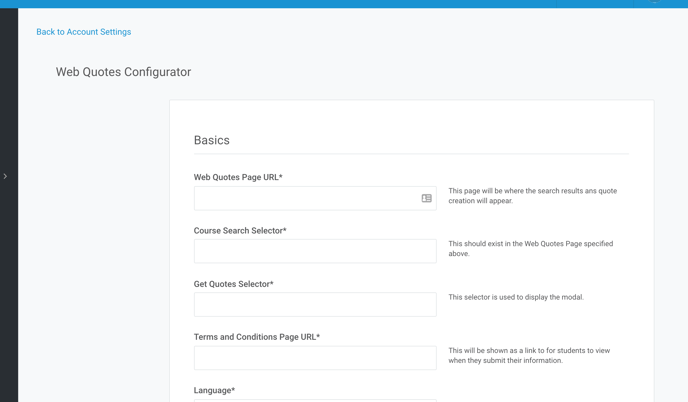 *Contact us for more information about how the WebQuotes Engine is accessed and installed.
6. Send Personalized Contact
Take the time to personalize contact. Nothing replaces personal, human interaction, even if it is through virtual means. The fundamentals of being genuine with your emails, messages, and video calls, of building your relationships still apply. Your potential (and current) Agency partners will appreciate the effort!
7. Other Marketing Opportunities
As an extra boost, our Marketing Team has designed several webinar/video formats, in collaboration with our Agency Sales and Support team. These include inviting both the Edvisor network and your Agency partners to participate in formats such as:
Interviews (A video interview with an industry expert, you, including an Agency Q&A)
Coffee Break Talks (Casual webinar discussion about a certain topic, for specific/single markets)
Case Studies (Article showcasing Edvisor success stories with great storytelling)
*Availability will vary depending on School eligibility, and current scheduling.
Please contact us if you would like to explore and collaborate on these opportunities.
8. Chat with us!
Contact Edvisor support to ask about reviewing your profile together. Sometimes all it takes are a few edits and tweaks to make your profile and programs stand out. You can always start an in-app live chat, or book a call with us.