Create and manage your own Custom Providers
Users on the Expert plan on Edvisor Recruit are able to complement their portfolio of providers that are available on Edvisor by creating and managing their own Custom Providers.
With the Custom Providers Management tool, you can create unlimited custom product offerings, including the ability to set custom prices, manage campus information and partnership details, upload photos and much more.
This feature allows you to create multiple providers in the agreement section and then open a link to be automatically logged in to Edvisor Distribute (ED) with a simplified interface to manage the following details for each individual provider.
Types of providers
There are 2 types of providers: Schools and Accommodation providers. They share some common flows, for instance, how they are created and managed but the main difference is on the type of products and how they can be searched, quoted and booked.
Schools
The Custom Providers Management feature in Edvisor Recruit (ER) allows you to create and manage partner schools or providers that are not yet available on the School Discovery tool
*Schools are only available to Expert plan users
Accommodation Providers
We're introducing a new type of provider specialized in accommodation. This feature allows you to create an accommodation provider that can be added to quotes of
any school.
*Accommodation providers are available to Pro and Expert plans users
Create Custom Providers
To create a Custom Provider go to Explore Providers and click Add Custom provider button, then you have to fill some provider details:
Name of the provider.
Type It can be school (Expert plan only) and Accommodation (Pro and Expert plan). It can't be edited once provider is created.
City, Country the city of the first campus or location of the provider . As we'll see later a provider can have multiple campus or locations. The name of this campus is the same name of the provider.
Currency currency of first campus or location, it will define the currency of all products of that campus or location.
Commission details commissions are managed on a provider basis (not by campus). Should a company need to manage different commission agreements for various campuses of the same provider, we suggest managing these campuses as individual providers.
Upon clicking 'Save' a new provider account is automatically created in Edvisor Distribute and click on 'Open Custom Provider Management' to begin managing the product of your new provider.
Manage Custom Providers
Important :You can access and edit the product of only one provider at a time. It means that you are required to logout the open provider on ED before entering a different provider profile.
Locations
NOTE: You can think of locations as campuses of a school or different cities where an accommodation provider offers their products,
To manage the locations you need to open Edvisor Distribute and go to the settings page.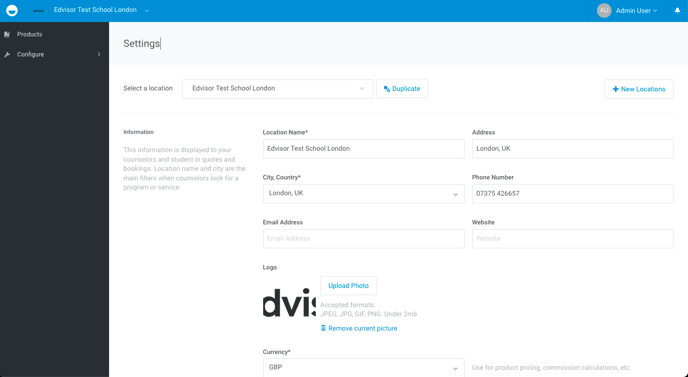 Location name and city are the main filters when counselors look for a program or
service. The currency is used to set the price of all products and fees of that location.
By default a Custom provider has one location or campus and you can create more
as needed, for instance, if a provider has products on Toronto and Vancouver you
can have both locations in a single custom provider.
Offerings
Depending on the type of provider you'll be able to create different types of products:
| | | |
| --- | --- | --- |
| Type of product | School Providers | Accommodation Providers |
| Course | Yes | No |
| Accomodation | Yes | Yes |
| Addons | Yes | No |
Search and quote custom products
Once you have configured provider products it's time to start quoting! The process depends on the type of provider , for schools you'll start by searching a course and for accommodation it will be added to any existing quote.
Quote School products
Once a course has been made visible , it will appear in your Course Finder in ER and in the E-Commerce plugin on your websites. If the location also has accommodation or additional services, they can be added to the quote.
Accommodation providers products
Product from accommodation providers can be added to any quote as long as it's offered in the same location of the program. In the video below , we add accommodation to an existing quote with a program in London. Notice that the provider is different to the school, it's possible because custom accommodation providers are available for any course in that specific location.