Use Recruit to communicate with your Students and Clients via Email, Whatsapp and Student Portal.
Email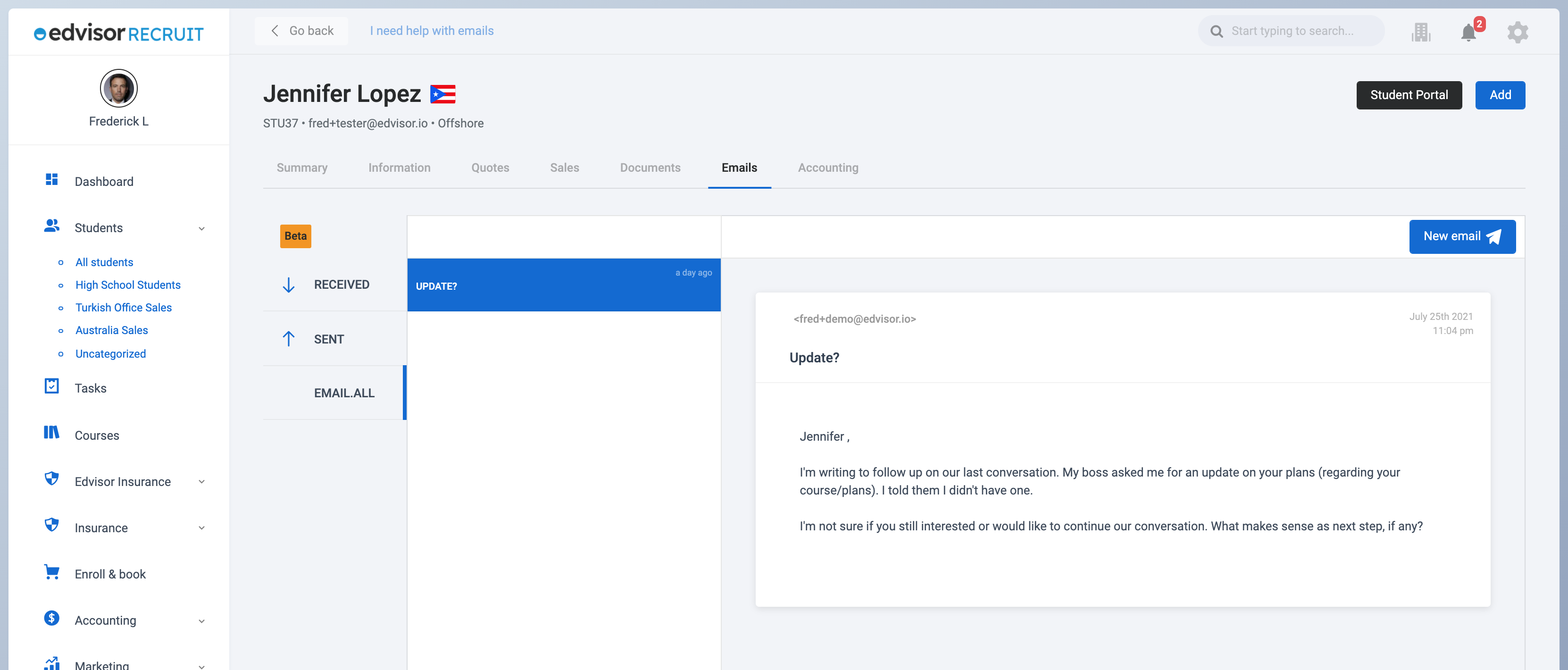 Accessible from the Student Profile, the Email section allows you send emails to the Student. There are two options for you to be able to send emails.
Default 'out-of-the-box' emails. You can start sending emails to your students immediately, as long as they have a valid email address. In this situation, the 'from' email will be a 'donotreply@' email. The student will not be able to reply directly to your email
Connect to Gmail. There are two options if use Gmail as you email client.

Connect your Gmail account at no extra cost to you, to be able to send and store outgoing emails from Edvisor Recruit. This can be setup from the 'User Settings' section.
Store all emails sent and received by Gmail inside of Recruit, without having to be logged into Recruit. This can be setup in the 'Add Ons' section and is only $5/user/month.

For more technical information about how to connect and synchronise your Gmail account, review these other articles:
Connect to Gmail
Storing Emails with Gmail (Add On)
Troubleshoot: Access Error Connecting to Google
Whatsapp
In the 'Notes' section of the student profile (Summary), you will find an option to start a whatsapp message. This option will appear only if there is a phone number stored for the student.
This button will open the whatsapp app on your device if available, and begin a new chat for you with the number displayed. All correspondence from there, is in your whatsapp. No messages are stored in Recruit. This icon can be treated simply as a trigger to open whatsapp application on your device.
At this time, whatsapp does not support a full API integration for businesses (to store all messages).
Portal
Through the Student Portal, you can have your clients download and/or upload documents, complete forms, review their quotes and study details. They can even review their application statuses.
Follow the link below to read more about it in the next article.
NEXT: Student Portal