In this article, we explain a bit more how the "Explore Providers" feature can be used to add, edit, connect/disconnect to schools and accomodation providers.
In this specific feature "Provider" is an institution that provides an Educational service such as Language School, High School Education, or Higher Education or Custom Accommodation services.
Insurance providers will not show up on this list.
To access this section you have to click on the top-right on the building-looking icon.
In the "Explore Providers" feature you can:
Manage all aspects of your providers, independently of what type of services they offer: education or accommodation.
Visualize your current list of providers, pending agreements to sign, which providers give you the highest/lowest commission, etc.
Search more easily for providers based on filters such as name, Edvisor ID, location, programs they offer, etc.
Add, Edit, and Delete Providers.
Adding an education services provider
You can add a new education services provider by sending an invite through ER to start quoting, enrolling, and selling their services. There are 2 types of providers: schools, and accommodation providers.
NOTE: If the school or accommodation you are looking for is not displayed, it can be because you already have them connected to your agency or Edvisor is not working with that provider.
Connect to Schools
Search to connect to more than 1000 providers, you can filter by provider name, Edvisor ID, location, and course categories. Once the education provider accepts your invite, it will be added automatically to your provider's list as a Pending request. Note that, you will be able to cancel your invite at any moment. You will be able to send this invite-only to verified schools in Edvisor Distribute.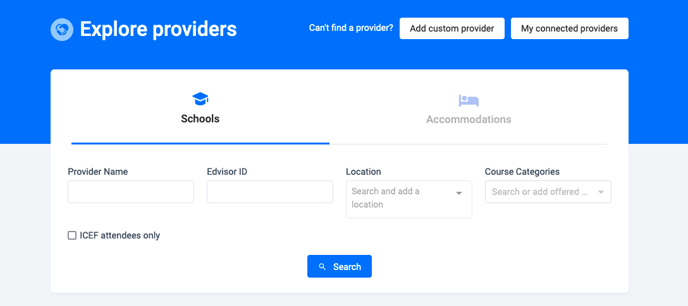 Connect to Accommodation Providers
Accommodation providers are ready to be connected so you don't need to wait for
them to accept an invite after you click on connect, it will be automatically connected
and ready to quote their offerings.

NOTE: If you are interested in adding an education services provider or an accommodation services provider which are not working with Edvisor at the moment, you can add them manually using the
Add Custom Providers